Spellbound didn't just book some of the most talented, professional, and well known DJs in the DC area Industrial/Goth scene. We're trying to provide the best club experience possible. With the use of two large screen TVs, we'll be featuring classic horror, film noir, and cult classics every night, and the kitchen is open until 1am. There's even plenty of seating for anyone who enjoys sitting on the sideline for conversation or people watching. For those who dance, we offer almost 300 sq ft. of dance floor!
Location & Hours
Recessions is below the Hotel RL
1823 L Street NW, Washington, DC
Saturday 9pm till close.
You must be 21+ with proper ID to attend.
$7 cash cover at the door
With a $10 minimum Recessions accepts all major credit cards except Discover.
Parking
Garage parking is available right around the corner,
until 3:30 AM, for $9 at PMI 1111 19th St
Drink Specials: All Night
$5 Captain Morgan
$6 Absolut Vodka
$6 Gothmopolitian
$10 Vodka & Red Bull
$6 24oz. Domestic Draft Beer
Late Night Special (between 1-2am)
$5 Svedka Vodka (any Flavor)
**New Drinks**
$8 Apple Ginger Captain
(Absolut Apple-Ginger Vodka,
Captain Morgan Rum & Coca-Cola)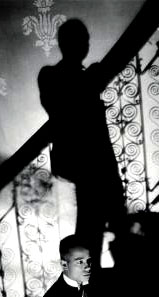 $5 Caramel Apple Coke
(Caramel Apple Liquor & Coca-Cola)
Menu
The kitchen is open until 1am - featuring a happy hour menu.
Contact
Want to contact us? Just drop us a line: promotions@spellbound-dc.com